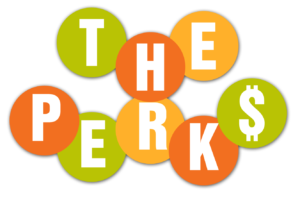 Of Advertising In The Perkolator
PRICE: Competitive advertising rates. Save 25-50% on display advertising(compared to local newspapers).
POSITIVE: Fun, positive, entertaining and informative content, putting readers in a relaxed and receptive mood.
PLACEMENT: Distributed to high volume locations. Primarily restaurants and coffee shops.
PREFERRED: Only one advertiser per business category. Lock in your advertising. Lock out your competitors.
PROMINENT: Designed so that your advertisement doesn't get lost.
PERSISTENT: Your Advertising gets seen repeatedly and consistently. Our loyal readers eagerly await each new edition.
PICKED UP: Every single copy is read by multiple people at the distribution location then passed on to friends and family outside.
PROVEN: With 25 years in the marketplace, The Perkolator is a proven advertising concept with a growing and loyal readership.
PROFESSIONAL:  You'll be in good hands with our professional approach to your advertising and marketing needs
Get Started Today!
Click on the coffee cup below, select the edition you want to advertise in then send an email to the publisher for that edition. OR, you can use the phone number displayed.

Best bang for my advertising buck.  I know The Perkolator is read all the time by the people I want to reach.  I see people reading it everywhere I go.  There's nothing else out there that gets the exposure for my business for such a low cost.

I visit Orillia frequently.  I look forward to picking up and reading The Perkolator newsletter.  Congratulations on your upcoming 20th year.  It has stood the test of time and survived

It's awesome and it's still steadily bringing in new customers after all this time

The Perkolator reaches the market I need to reach

The Perkolator saved my business last year!

Thank you so much for this publication.  It does everybody a world of good... a lot of us love what you are doing.

I really enjoy reading this and I pass it on for others to read.  It enriches my mind and makes me laugh.  Can't get better than that!

Frequency is the key to good advertising & The Perkolator gets it done at a reasonable cost.

We are a group of 15 people who enjoy your paper tremendously.  We read it every week at the Huntsville Legion... It is a very enjoyable part of our day.