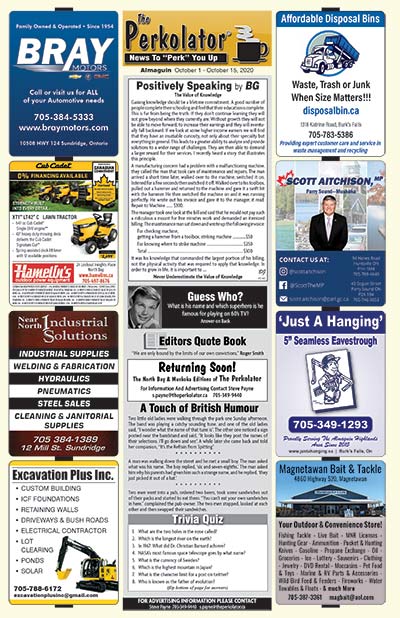 The Perkolator Story
The Perkolator was conceived in early 1995 with the first issue being distributed to the Huntsville/North Muskoka area in August of that year. The concept was to give people a publication to read as they relaxed in their favourite restaurant or coffee shop, while at the same time providing area businesses with a unique advertising opportunity. We chose the three columns, 11″x 17″ format because it allowed just the right amount of reading material for the average coffee shop/restaurant visit, along with ease of handling for the reader sitting at the table. Another consideration was to develop a system that could be operated as a Home Based Business. Resulting in an opportunity for local entrepreneurs to build their own business.
The Perkolator was the first publication of it's kind to provide its readers with a positive, uplifting message aimed at increasing their confidence, self-esteem and motivation, combined with trivia, amusing stories and interesting facts. Hence our tag line:
News To Perk You Up
The Huntsville edition was quickly followed by the Orillia edition, Gravenhurst & Bracebridge followed. Since then we have steadily expanded, in 2013 we launched a full colour, Muskoka Monthly edition that is mailed to 2000 business's across Muskoka, plus being distributed to over 100 locations throughout the region. In 2019 North Bay – Callander along with Midland – Penetanguishene began publishing a full-colour edition.
This free, upbeat publication, that some say is not only entertaining but 'addictive', has continued to grow in popularity over the years. What started out being distributed in about 28 locations with approximately 500 readers, can now be found in about 400 locations from Orillia and Midland in the South to North Bay & Callander in the north.
Readers come from every demographic and income group. They eagerly await each weekly publication in growing numbers. We now distribute 26,000 copies per month to an estimated 120,000 readers each month. Making the Perkolator truly…………
Best bang for my advertising buck.  I know The Perkolator is read all the time by the people I want to reach.  I see people reading it everywhere I go.  There's nothing else out there that gets the exposure for my business for such a low cost.

I visit Orillia frequently.  I look forward to picking up and reading The Perkolator newsletter.  Congratulations on your upcoming 20th year.  It has stood the test of time and survived

It's awesome and it's still steadily bringing in new customers after all this time

The Perkolator reaches the market I need to reach

The Perkolator saved my business last year!

Thank you so much for this publication.  It does everybody a world of good... a lot of us love what you are doing.

I really enjoy reading this and I pass it on for others to read.  It enriches my mind and makes me laugh.  Can't get better than that!

Frequency is the key to good advertising & The Perkolator gets it done at a reasonable cost.

We are a group of 15 people who enjoy your paper tremendously.  We read it every week at the Huntsville Legion... It is a very enjoyable part of our day.