Midland Penetanguishene December 14, 2022
21 December 2022
Midland Penetanguishene December 28, 2022
4 January 2023
Midland Penetanguishene December 21, 2022
December 21, 2022
---

---
Editors Quote Book
"Christmas Day is in our grasp,
As long as we have hands to grasp!
Christmas Day will always be,
Just as long as we have we!
Welcome Christmas while we stand,
Heart to Heart, and hand in hand!"
— Dr. Seuss
---
Men and Women
• Who's guilty here? … A wife is dreaming in bed. She suddenly wakes up and shouts, "Quick – My husband is home!" Her husband wakes up and jumps out the window.
Husband to wife … "Why don't I have any tattoos? For the same reason you don't put a bumper sticker on a Ferrari!"
"Being a man means doing what I want, when I want, and not having to answer to … SHE'S COMING!!! To be continued …"
She asked him why he didn't want to go camping … "Because I don't want to spend a small fortune to live like a homeless person!!"
---
Senior Management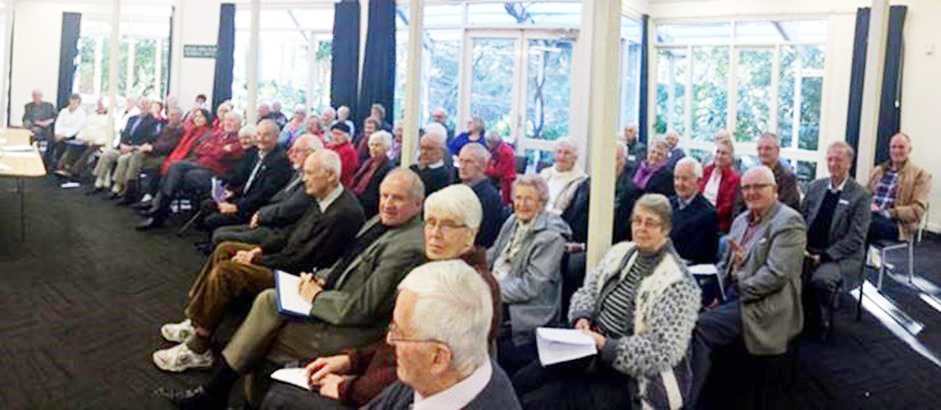 On her first day at the senior complex, the new manager addressed all the seniors, pointing out some of her rules:
"The female sleeping quarters will be out of bounds to all males, and the male dormitory to the females. Anybody caught breaking this rule will be fined $20 the first time, $60 the second time, and being caught the third time will cost you $180! Are there any questions?"
At this point, an older lady named Alice stood up in the crowd and inquired, "How much for a season pass?"
---
Trivia Quiz
(Click Question For Answer)
1. What is the best selling Christmas single of all time?
'White Christmas' by Bing Crosby.
2. What is the most recorded Christmas single of all time?
'Silent Night'. 
3. What ad campaign popularized Santa's red suit?
Coca-Cola's 1931 ad campaign.
4. What is the highest grossing Christmas movie of all time?
'Home Alone'.
5. How many ghosts appear in 'A Christmas Carol'?
4.
6. What are the 3 traditional colours of Christmas?
red, green and gold.
7. What do people traditionally place at the top of their Christmas tree?
An angel ornament.
8. Who popularized the Christmas tree tradition?
Queen Victoria & Prince Albert (but it originated in Germany).
---
Your Horoscope

For Amusement Only
Aries Mar. 21 – Apr. 19: Put on a happy face this holiday season and loved ones will appreciate it – more than you know!
Taurus Apr. 20 – May 20: Someone could feel resentment toward you. Seek out and be extra kind to them. That's the best remedy.
Gemini May 21 – June 20: Stop! Wait … something is coming that could change your life … if you let it!
Cancer June 21 – July 22: Concerns about financial health blossom, but now you've a chance to turn it around before it gets too big.
Leo July 23 – Aug. 22: Pictures from the past will come to the forefront. Glean only what you need today and let the rest go – for good!
Virgo Aug. 23 – Sept. 22: Morning is the time for renewal. You're at the beginning of your own "morning" time of life.
Libra Sept. 23 – Oct. 22: Pour on the praise [genuinely] to a loved one or associate who needs it now, and watch how their flower blooms!
Scorpio Oct. 23 – Nov. 21: Behaving like an idiot may have worked for you in the past, but those days are gone! Be respectful, kind and patient.
Sagittarius Nov. 22 – Dec. 21: As visions of sugar plums dance in your head, enjoy it while it lasts, then get back to work!
Capricorn Dec. 22 – Jan. 19: Picture yourself where you want to be this time next year and start laying the groundwork to make it a reality.
Aquarius Jan. 20 – Feb. 18: Many paths lead to where you want to be. Pick one. Nothing will begin to happen until you do.
Pisces Feb. 19 – Mar. 20: There's still enough time to avert a disaster. Seek out the guidance of others who have been there.
---
Did You Know?
You Can get The Perkolator delivered

FREE to your INBOX,  Every week?


CLICK HERE and SUBSCRIBE NOW
---

Attitude Matters
An old man said: "Erasers are for those who make mistakes."
A youth replied: "Erasers are made for those who are willing to correct their mistakes!"
---
Christmas Traditions Around the World
Japan … Christmas is not celebrated as a religious holiday, but is a time to spread happiness. Fried chicken is the most popular meal, so KFC takes orders in advance!
Norway … Gifts are opened on Christmas Eve and are delivered by Julenissen [Santa Claus]. Each year it sends a huge Christmas tree to the U.K. as a "Thank You!" for their help during WW II, which is then displayed in Trafalgar Square.
Poland … Christmas Eve is the big day – and night. Families do not eat until the first star appears in the sky, then 12 different dishes are served … 1 for each disciple.
Germany … The tree is brought into the house on Christmas Eve and is secretly decorated by the mother for young children. Presents are opened on Christmas Eve.
Spain … They have their main meal on Christmas Eve before Midnight Mass. It usually consists of turkey stuffed with truffles, or in North West Spain, seafood. After Mass, people parade the streets with torches, playing instruments.
India … In Christian communities, traditional Christmas trees are replaced by banana or mango trees, and churches are decorated with Poinsettia flowers and candles for Midnight Mass.
Brazil … After Midnight Mass, they have huge fireworks displays. Children leave a sock near a window for Papai Noel, who will replace it with a gift.
---
The Last Word
"I will honour Christmas in my heart, and try to keep it all the year."
— Charles Dickens
---