Orillia July 28, 2021
4 August 2021
Orillia August 11, 2021
18 August 2021
August 4, 2021
---
BG's Positively Speaking
Can You Hear Me Now?
How many times have you felt like screaming, "I Can't Hear Myself Think?" For most people in today's challenging world, the answer would be "Often." Our lives suffer from a proliferation of noise: TVs, iPods, phones, air conditioners, fans, cars & trucks, power tools, lawnmowers & tractors. These are just a few of the noises that invade our lives and steal our ability to think. We also have to cope with work, family, money, sex, neighbours, associates and friends. With all this "static" in our lives, it's no wonder we can't hear ourselves think. When we can't listen to ourselves think, we lose our ability to be creative and move forward.
The question is, "What can we do about it?" Well, here are a few tips:-
Clear The Static: Take some quiet time and find a room to shut out all the noise and distraction. Take a drive into the country alone. Sit by a lake or river. "But," you say, "I don't have time." Make Time! You can't continue to be like a one-ton van carrying two tons of canaries – you're OK as long as half of them stay in the air. Sooner or later, they will all want to rest. Deal with the static before it "deals" with you.
Turn On:  Open up the lines, clear the tracks, make sure you charge your batteries. Tune in to your inner self, discover the real you. "Tune out" all the distractions that life's "static" has delivered.
Stay Tuned In: To your goals, dreams and ambitions, as well as those of your family. Stop worrying about what others think. Let go of past mistakes. There is no future in the past, only more static. Meditate, prioritize, listen to that "inner voice."
Now, You'll Be Able to Hear Yourself Think!
---
"When I'm 64."
On Aug. 5, 1957 (64 years ago), "American Bandstand" made its debut on National Network TV (ABC). It was previously a local Philadelphia TV show that aired in various versions from 1952 to 1956. Dick Clark took over the programme in 1956.  In 1957 he pitched it to the ABC network for national syndication.  As a performance, music and dance programme, Dick Clark hosted the show from 1956 until its final season in 1989. Clark also served as the program's producer. It featured teenagers dancing to Top 40 music introduced by Clark. The show offered at least one popular musical act, usually appearing in person to lip-sync one of their latest singles. Freddy Cannon holds the record for most appearances, at 110. In its more than three decades, it spotlighted the popular music of the time.
The show's popularity helped Dick Clark become an American media mogul and inspired similar long-running music programs, such as Soul Train and Top of the Pops. Clark eventually assumed ownership of the program through his company Dick Clark Productions.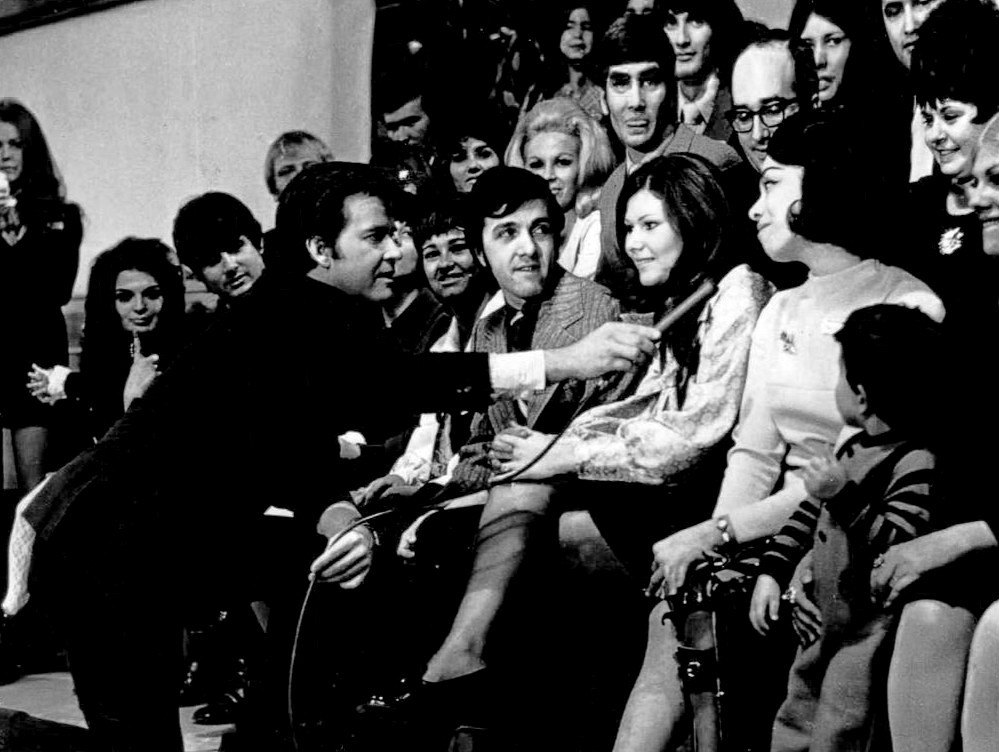 The picture above shows Dick Clark talking to Myrna Horowitz, one of the original dancers when the program began in 1952, on the show's 18th anniversary in 1970.
---
Editors Quote Book
"Always have a sense of humour about life – you'll need it – but always be courteous to boot."
Peter Jennings
---
Getting Closer
The customer in the restaurant was impatient He'd been there for some time and had not seen a waitress. In desperation he called the manager over. "Excuse me", he said,"could you find me another table"? "What's wrong with the one you've got"? asked the manager. The man responded,  "I'd like one closer to a waitress".
---
Trivia Quiz
(Click Question For Answer)
1. Howard Hughes started what now-defunct airline?
TWA. (Trans-World Airlines).
2. What is the closest star to the earth?
The Sun.
3. By what other name do we know a tsunami?
A tidal wave.
4. Who wrote the novel "Les Miserables"?
Victor Hugo.
5. What does an entomologist study?
Insects.
6. The tallest church tower in the world is in what German city?
Ulm.
7. Which classic TV show started with the words 'There is nothing wrong with your television set'?
The Outer Limits.
8. What is the only flag that the US allows to be flown above the Stars & Stripes?
The U.N. Flag.
---
Your Horoscope

For Amusement Only
ARIES Mar. 21-Apr. 19: You can achieve two significant objectives if you apply your efforts sequentially. Before plunging in, see if you can connect them logically.
TAURUS Apr. 20-May 20: Usually, you're the one who contributes the brightest suggestions, but if you're a good listener, you might hear a unique idea that matches yours.
GEMINI May 21-June 20: Helping someone you like might not pay you immediate dividends, but everything will adjust reasonably as the endeavour moves down the line.
CANCER June 21-July 22: The right companion could placate your restless urges. Seek a friend who is on your wavelength and interested in escaping mundane routines.
LEO July 23-Aug 22: A creative endeavour is likely to represent your very best efforts, but try to find something to do that is useful as well as stimulating.
VIRGO Aug. 23-Sept. 22: You are a charismatic person whose dynamic qualities will not go unnoticed or overlooked wherever you go.
LIBRA Sept. 23-Oct. 22: Factors that contribute to your domestic security are firming up at this time. Be patient; what is transpiring might not be visible yet.
SCORPIO Oct. 23-Nov. 21: Try not to commit yourself to activities that restricted you mentally or physically. You will operate more effectively as a free, carefree spirit.
SAGITTARIUS Nov. 22-Dec. 21: Significant financial arrangements should work out rather well this week. Keep this in mind during a scheduled meeting.
CAPRICORN Dec. 22-Jan. 19: Your ambitions can be advanced if you don't let peripheral arrangements slow you down. Distractions must not be permitted.
AQUARIUS Jan. 20-Feb. 18: You should fare better if you maintain a low profile. Stay in the background and keep in touch with events, but don't appoint yourself the bandmaster.
PISCES Feb. 19-Mar. 20: You'll function well in your group involvements. Something beneficial may develop through two people who are interested in your affairs.
---
 This Is Some Traffic Stopper!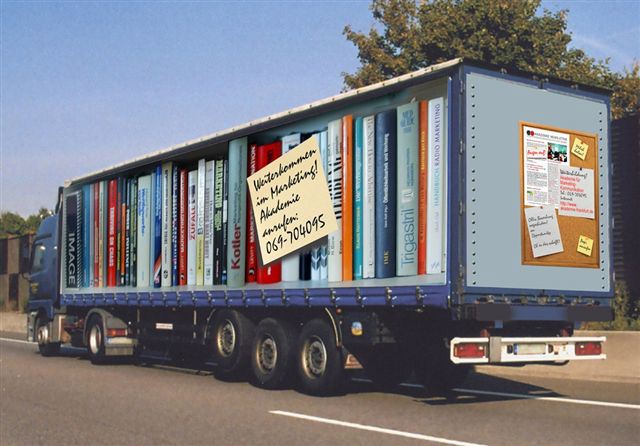 A Mobile Library for a Race of Giants, Perhaps!
---
Did You Know!

You can have The Perkolator delivered to your Inbox

FOR FREE!
CLICK HERE to subscribe.
---
Just Visiting
An elderly man walked into the Revenue Canada office, glanced around, sat down and smiled at everyone. "Can I help you"? said one of the clerks. "No", replied the man,"I just thought I would drop in and see all of the people I have been working for all these years".

---
Wishful Thinking
Here are a few "Fantasies, thought up by people on a dirt.
– If you eat something and no one sees you eat it, it has no calories.
– If you "fatten-up" those around you, you will look slimmer.
– Movie related foods contain no calorie because they are part of the Entertainment Package.
---
Witty Response
Asked why she was leaving the company, a secretary gave her boss the following note:
Dear Boss. My reason for quitting will soon be apparent, and so will I.

---
Think About It!
There Goes The Green. Each mile of a four-lane highway takes up 17 acres of land.
How Fast Is Fast? In 1936 track star Jesse Owens beat a racehorse in a 100 yard race.
No Map Needed. Octopuses recognize landmarks. No matter how far they travel, they alwaysreturn home in a straight line.

---
The Last Word
Life is like an ice cream cone.
You have to lick it one day at a time.
---