Midland Penetanguishene July 14, 2021
21 July 2021
Midland Penetanguishene July 28, 2021
4 August 2021
Midland Penetanguishene July 21, 2021
July 21, 2021
---
BG's Positively Speaking
It's Just A Matter Of Time
Have you ever noticed how many times we say, "But, I just don't have enough time?" In today's hectic life, it appears that more and more people are saying this. If we wish to have more time, then we must change what we are doing. To change, we must be prepared. "But preparation takes time," you say. So then, we must learn how to handle time, not let time manage us.
There are 1440 minutes every day. We must learn how to spend them wisely; they are more valuable to us than money. If we are given $1440 today, we could put it in the bank until we have decided how best to spend it. Not so with time. We are given 1440 minutes every day, and we only have 24 hours to use them all. Each minute that goes by reduces the value if we do not spend it wisely.
How can we spend our time wisely? Let's say the doctor told us that, to stay alive, we must exercise for 20 minutes each day. We would look at our timetable and make the time to exercise. We would eliminate something that is nonproductive to our continuing to live. Now we are managing time. We must analyze and prioritize our activities, decide what has to be done, what needs to be done and what can be done without.
By following this simple process, we will improve our life and see how much of our precious time is wasted on things that don't help us in life. We will increase the value of the time we spend, not those we waste. We will find time to do many of the things we didn't have time for in the past, simply because we 'wasted' our time.
"Time, all time, is good. if we learn to spend it wisely."
---
Bad Date
After being with him all evening, the woman couldn't take another minute with her blind date. Earlier, she had secretly arranged to have a friend call her on the phone, so she would have an excuse to leave if something like this happened.
When she returned to the table, she lowered her eyes, put on a grim expression and said, "I have some bad news. My grandfather just died."
"Thank heavens," her date replied. "If yours hadn't, mine would have had to!
---
Editors Quote Book
"Let us all be kind to one another, for most of us are fighting a hard battle."
Ian McLaren
---
This Week In History
July 25, 1956: An Italian liner, The Andrea Doria, collides with the Swedish liner Stockholm shortly before midnight, sinking 12 hours later. 46 of the more than 1,600 people aboard died.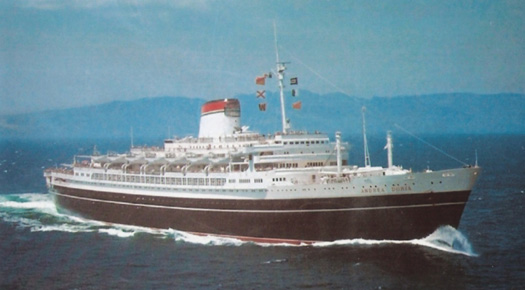 The Andrea Doria was approaching the New England coast, bound for New York City, when the eastbound Stockholm collided with her. Striking the top-heavy Andrea Doria in the side, causing her to immediately list severely to starboard, leaving half of her lifeboats unusable. It was only the calmness of the crew and the lessons learned from the Titanic tragedy that prevented another disaster of the same proportions. One of its lifeboats was found on a New York beach in 1981.
Trivia Quiz
(Click Question For Answer)
1. The Daiquiri cocktail was named after a village on what island country?
Cuba.
2. In what country song would you find the 'Gatlin Boys'?
Coward of the County..
3. In what 1980's hit song was the line 'I'm gonna be your number one.'?
The Tide is High.
4. What was the nickname given to gangster George Kelly?
'Machine gun' Kelly.
5. 'Five good reasons to stay single' was the tag line for what movie?
Four Weddings and a Funeral.
6. What is the stage name of Sir Thomas John Woodward?
Tom Jones.
7. The world heritage site of Petra is located in what country?
Jordan.
8. What is a hockey puck made from?
Rubber.
---
Your Horoscope

For Amusement Only
 ARIES Mar. 21-Apr. 19: You never know when you will need that "hand" returned, so make sure that you offer it to others as you go along.
TAURUS Apr. 20-May 20: Bear with all the hustle and bustle that surround you. Don't let stress get you down; things will soon be calmer.
GEMINI May 21-June 20: Finances have been depleted, but don't dip into reserves. Be creative with your shopping.
CANCER June 21-July 22: Your co-workers continue to make demands on you. Don't be taken advantage of, but neither should you shirk responsibilities.
LEO July 23-Aug 22: You will have a difficult time making a significant decision. Postpone it until later in the year, if possible.
VIRGO Aug. 23-Sept. 22: Children become impatient and unruly. Don't let them get you down. Instead, put them to work doing some chores.
LIBRA Sept. 23-Oct. 22:  Do not rush into any immediate changes in your lifestyle. Think things through before taking that big step.
SCORPIO Oct. 23-Nov. 21: It is too soon to see any visible improvements in a current relationship. Continue to give it more time. Be patient.
SAGITTARIUS Nov. 22-Dec. 21: Demonstrate maturity in your approach toward a problematic situation. Someone is watching and taking notes.
CAPRICORN Dec. 22-Jan. 19: Be very careful that you have not overlooked someone. Just a little encouragement can go a long way.
AQUARIUS Jan. 20-Feb. 18: Do not be afraid to say, "I love you." This may mean more to that special someone than anything else you could say.
PISCES Feb. 19-Mar. 20: Look for the spiritual aspect of events and don't get bogged down in the negative side of things.
DID YOU KNOW?
That you can visit the website of most advertisers?

Just click on their ad.
Is This Guy Really Driving In Reverse
Down The Autobahn At 150 Kl/Hr?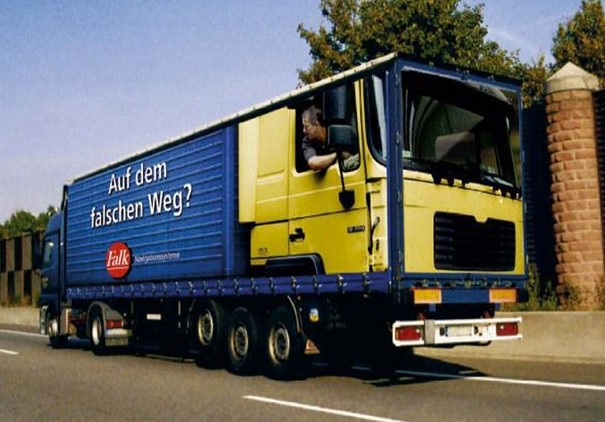 Relax, it's just a 3-D image painted on the side of a German trailer.
---
The Four Goldbergs
The four Goldberg brothers, Lowell, Norman, Hiram, and Max, invented and developed the first automobile air-conditioner. On July 17, 1946, the temperature in Detroit was 97 degrees. The four brothers walked into Henry Ford's office. They sweet-talked his secretary into telling him that four gentlemen were there with the most exciting innovation in the auto industry since the electric starter. Henry was curious and invited them into his office. They refused and instead asked that he come out to the parking lot to their car. Finally, they persuaded him to get into the car, which was about 130 degrees, turned on the air conditioner, and cooled the car off immediately. Ford got very excited and invited them back to the office, where he offered them $3 million for the patent. The brothers refused, saying they would settle for $2 million. Still, they wanted a label, "The Goldberg Air-Conditioner," on the dashboard of each car in which it was installed. Now Ford was a stubborn man, and there was no way he would put the Goldberg's name on two million Fords. They haggled back and forth for about two hours and finally agreed on $4million and that just their first names would be shown. And so to this day, all Ford air conditioners have Lo, Norm, Hi, and Max on the controls. So, now you know (Or Do You?).
---
The Last Word
 I like long walks…
especially when taken by people who annoy me.
---