Orillia September 1, 2021
8 September 2021
Orillia September 15, 2021
22 September 2021
Orillia September 8, 2021
September 8, 2021
---
BG's Positively Speaking
You Just Gotta Quit…!
As we go through our life, we pick up many 'habits' that, at the time, seem to be correct. But, as time goes by, these habits lose their usefulness. However, we now feel comfortable with them and are reluctant to let them go. But, if we wish to progress in life, we must change those bad habits for some good ones:
You Just Gotta Quit…!
Thinking small: Instead, think big, get a big dream and go for it. It's better to aim for the moon and hit the side of a barn than aim for the barn and fall into the manure pile.
Thinking like a loser: If we feel like a loser, we will lose. Losers never win – winners never lose. For even failure contains the seed of equal or greater opportunity and reward.
Thinking mediocre: Strive for excellence. Only in the struggle to achieve can we experience our greatest highs. Unfortunately, mediocre thinking leads to modest actions, which, in turn, steals our dreams and accomplishments.
Thinking broke: Broke thinking will keep us broke. If we want more out of our lives, we must stop thinking about what we don't have and concentrate our energy on what we want and how we can get it. Seek out the changes we must make and make them.
Thinking negative: Think Positive! Don't think.. "I'll try to do it," believe, "I will do it." Negative thinking gets negative results, and the numerical equivalent of negative is "0,"
Enough Already – You Just Gotta Quit Now!
FREE!  FREE!  FREE!

The Perkolator

Delivered to your Inbox every week


CLICK HERE to subscribe.
Mitch & Maude


Editors Quote Book
 "Don't worry about avoiding temptation as you grow older…
it will avoid you."
Winston Churchill
---
The Eyes Of The Beholder!
A girl in the street is pointing up at the sky. "Look, an angel!" she yells. Passers-by smile saying, "Don't be silly, that's only a cloud." How wonderful it would be to see angels where there are only clouds.  How sad it would be To see only clouds where there are angels.
---
Getting The Message Across?
Jesse Jones of Raleigh, North Carolina, has adapted some of his Halloween decorations for a different purpose. He has erected a 13-foot skeleton in his front yard with a sign attached that reads, "Not Vaccinated See You Soon. Idiots!" WRAL-TV reported that Jones also set up some tombstones with messages directed at vaccine deniers. He lost his mother-in-law to COVID-19 and hopes his display will get people to focus on the recommendations coming from the CDC.
---
Trivia Quiz
(Click Question For Answer)
1. Inventor Thomas Edison was afraid of what?
The Dark.
2. The opposite sides of a dice cube add up to the same number. What number?
Seven.
3. This Nobel Peace Prize winner was nicknamed 'The Arch.'
Archbishop Desmond Tutu.
4. What did sound engineer Charley Douglas invent for TV sitcoms?
The laugh track.
5. What colour does acid turn litmus paper?
Red.
6. Who starred in the movie Titanic opposite Leonardo di Caprio?
Kate Winslett.
7. Name the Russian musical instrument that has a triangular body.
Balaika.
8. How many valves does a trumpet have?
Three.
---
Your Horoscope

For Amusement Only
ARIES Mar. 21-Apr. 19: A friend is taking a hard look at themselves. Remain supportive as they struggle through their challenges.
TAURUS Apr. 20-May 20: Let your artistic nature out. Pursue your creativity. You are long on talent and ability. Let others see it.
GEMINI May 21-June 20: Be more conservative with your money. Don't be tempted by the first to open your wallet. Be more selective.
CANCER June 21-July 22: Give in to your desires. Let your fantasies come true. Share your life with the one you love.
LEO July 23-Aug 22: You may be tempted to bite off more than you can chew. Don't be conned into doing the work of others.
VIRGO Aug. 23-Sept. 22: Conserve energy. Don't overwork yourself. Curl up in your favourite chair with a good book and a glass of wine.
LIBRA Sept. 23-Oct. 22:  A  busy schedule becomes even more frantic. Go with the flow until you can slow down on your own.
SCORPIO Oct. 23-Nov. 21: Choosing between two different career paths becomes a nightmare. Careful deliberation and advice from experts will help.
SAGITTARIUS Nov. 22-Dec. 21: Travel to exotic locales, weather permitting. Combine business with pleasure and enjoy yourself.
CAPRICORN Dec. 22-Jan. 19: Someone tries to persuade you to misbehave. Stick to your guns, and you will have a moral victory.
AQUARIUS Jan. 20-Feb. 18: What you want is not necessarily what you will get. You may have to settle for less this time.
PISCES Feb. 19-Mar. 20: Financial investments peak. Look for other alternatives, shop around. Consult the experts.
---
Canadian Eh!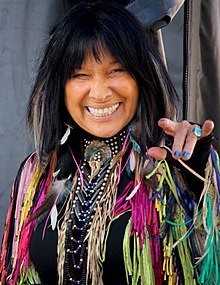 Born on the Piapot Reserve, Craven, Saskatchewan, Feb. 20, 1941. (Sometimes recorded as 1942), she is a singer-songwriter, musician, Oscar-winning composer, visual artist, educator, pacifist and social activist. This Indigenous Canadian has gained an international reputation. Throughout her career, her work has focused on issues facing the indigenous peoples of America. Her singing and writing cover the subjects of love, war, religion, and mysticism. She has won recognition, awards and honours for her music and her work in education and social activism. Among her most popular songs are "Universal Soldier." "Cod'ine." "Until It's Time For You To Go," "Now The Buffalo's Gone," Along with her covers of Mickey Newbeury's "Miser Can't You See, and Joni Mitchell's "The Circle Game." Buffy's music has been recorded by Elvis Presley, Neil Diamond, Donovan, Joe Cocker, Jennifer Warnes, Barbra Steisand, Shirley Bassey, Roberta Flack, Janis Joplin, and Glen Campbell.
In 1983, Sainte-Marie became the first indigenous person to win an Oscar. Her song "Up Where We Belong," co-written for the film An Officer and a Gentleman, won the Academy Award for the Best Original Song and the Golden Globe for Best Original Song.
Buffy Sainte-Marie picture courtesy of Wikipedia.
---
Very Efficient
An efficiency expert concluded his lecture with a note of caution. "You don't want to try these techniques at home." "Why not?" asked somebody from the audience. "I watched my wife's routine at breakfast for years," the expert explained. "She made lots of trips between the refrigerator, stove, table and cabinets, often carrying a single item at a time. One day I told her, "Hon, why don't you try carrying several things at once?" "Did it save time?" the person in the audience asked. "Actually, yes," replied the expert. "It used to take her 20 minutes to make breakfast. Now I do it in seven."
---
Glasses for Work
Jim came home from work last night exhausted. He said to his wife, "I need my glasses checked. I'm so nearsighted I nearly worked myself to death." Perplexed, his wife
asked, "What's being nearsighted got to do with working yourself to death?"  Jim responded, "I couldn't tell whether the boss was watching me or not, so I had to work the whole time!"
---
Fixer-Upper
The Weavers found their dream farmhouse in Skippack, Pennsylvania. Being it was December and they were in a rush to close, they skipped having an inspection. They did, however, note that the seller's disclosure mentioned "bees in wall." It wasn't until the weather warmed, however, that the Weavers became aware of the extent of the bees. They called Allan Lattanzi, an area beekeeper, to remove them in late July. He eventually ended up with 450,000 bees in three colonies. CNN reported that the cost to remove the bees was $12,000, which involved taking slate tiles off the outside wall one by one. Lattanzi estimates the bees had been there for 35 years."
---
Cabin Vacation
Grandpa took young Billy to the cabin for a short vacation. As they entered the cabin they kept the lights off soas not to attract insects and mosquitoes. As grandpa closed the door, Billy noticed that some fireflies had come in. Turning to grandpa Billy said, "It's no use grandpa. The mosquitoes are coming after us with flashlights."
---
The Last Word
Everything is OK in the end; if it's not, it's not the end!
---